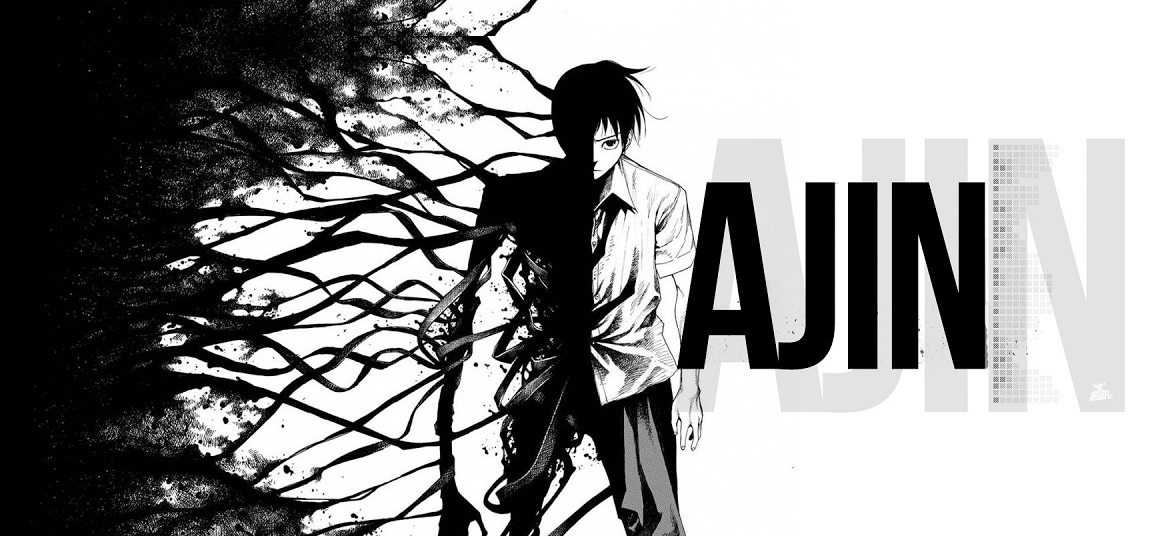 Anime: Ajin (Complete Collection)
Released By: Sentai Filmworks
Release Date: May 16, 2017
Retail Price: $69.98
When Netflix announced it would be streaming the 2016 anime horror series Ajin – it was met with a vast amount of excitement and anticipation which certainly continued from beginning to end. With the achievement of success becoming very clear, Sentai Filmworks spotted the niche series as a potential staple for their line of genre series and licensed Ajin for a video release of the 13 episode series. To give you a little backstory on the series, Ajin follows Kei Nagai, a high school student whose life comes to an abrupt end in the first episode. What makes this extra peculiar is the protagonist wakes up having regenerated and is the third Ajin in Japan (an immortal inhuman that is a recent topic of interest.)
His identity as an Ajin becomes public knowledge which instantly endangers Kei's life, adding a bounty to his head and sending many powerful government sects after him. Fortunately for Kei, his longtime friend Kaito is present and helps Kei flee from hunters, police and all of those who may want to obtain the Ajin. The two embark on this hectic new adventure together, trying to keep each other alive and ahead of all the parties that have plans for Kei as the newly discovered Ajin. With the government making moves to control Ajin (including a girl named Izumi who is an Ajin covering Ajin affairs) comes the pro-Ajin movement led by Sato – a former marine who now despises mankind and its sympathizers hell bent on corrupting Kei.
From a narrative perspective, Ajin jumps in head first into the drama and action the series totes in the premise. From the very first moments, you know there is a sense of urgency that follows the plot throughout this tale. Ajin can draw a variety of reaction from the fans of the anime that builds momentum with viewers, but one implausible argument is that the series is slow. The quick pacing could sometimes be a deterrent for some, but Ajin doesn't feel as if it's throwing too much conflict at the viewers (more of a surface issue tension that will be elaborated on later in this review.) If anime that doesn't waste time attracts you, Ajin has plenty of intense instalments to keep you guessing at what could come next – that is except for repeated death and Kei being in danger of course.
As I mentioned earlier, Ajin carries a decent amount of issues and obstacles for its protagonist, but sometimes it feels like a missed opportunity to discuss anything past government conflict, abuse of power and new territory for the primary character who is realizing what it means to be an Ajin as it goes on. Just because it uses tropes that have been seen before doesn't mean anything especially negative because Ajin is still a series with a lot of significant successes, but in the future exploration of the series and or films should scratch deeper than the surface that we've come to know during the initial first season of 13 episodes. By following Kei and Kaito (who have a Tokyo Ghoul Kaneki/Hide relationship) the series does provide an investment worthy thrill-ride to see how they can navigate and overcome the various troubles that are popping up left and right. Ajin offers great potential overall, sometimes it is used to its best and others can leave us waiting for a bigger picture – nonetheless, Ajin is an impressive series that will most likely grow with more time.
The true attribute that sets Ajin apart from other horror animes and many series in general is the animation techniques used to bring Ajin to life. In series like Fullmetal Alchemist, scenes with 3D animation are placed inside to add a different approach – but Ajin is completely done in this 3D animation. If anything, the animation is probably peoples biggest gripe or favorite inclusion to the anime, drawing a polarizing response from anime fans and critics. Initially it was my main hesitation going into Ajin, not having enjoyed the first look at the animation but to be fair, it actually has moments where the creative decision makes sense. Several fights feel like clever pieces to the series where the 3D technique isn't something that was done just because they could – they want to serve a purpose. Ajin also finds it's niche in darker tones to fit the grim atmosphere created by death and carnage, even down to the opening and closing themes as evidence that Ajin is created to have a bleak image that is felt from beginning to end. Ajin is definitely an anime that at a glance could certainly be off putting to viewers, but if given a chance you will find there are enough horror, action and conflict to keep you coming back for more.
Overall Score: 7.5/10
Aedan's Final Thoughts:
– Ajin deserves credit for changing my initial opinion on the series with its animation (despite me loving the film A Scanner Darkly which held similarities)
– The formula has familiarities to other animes over the last decade but enough originality to keep it from feeling recycled.