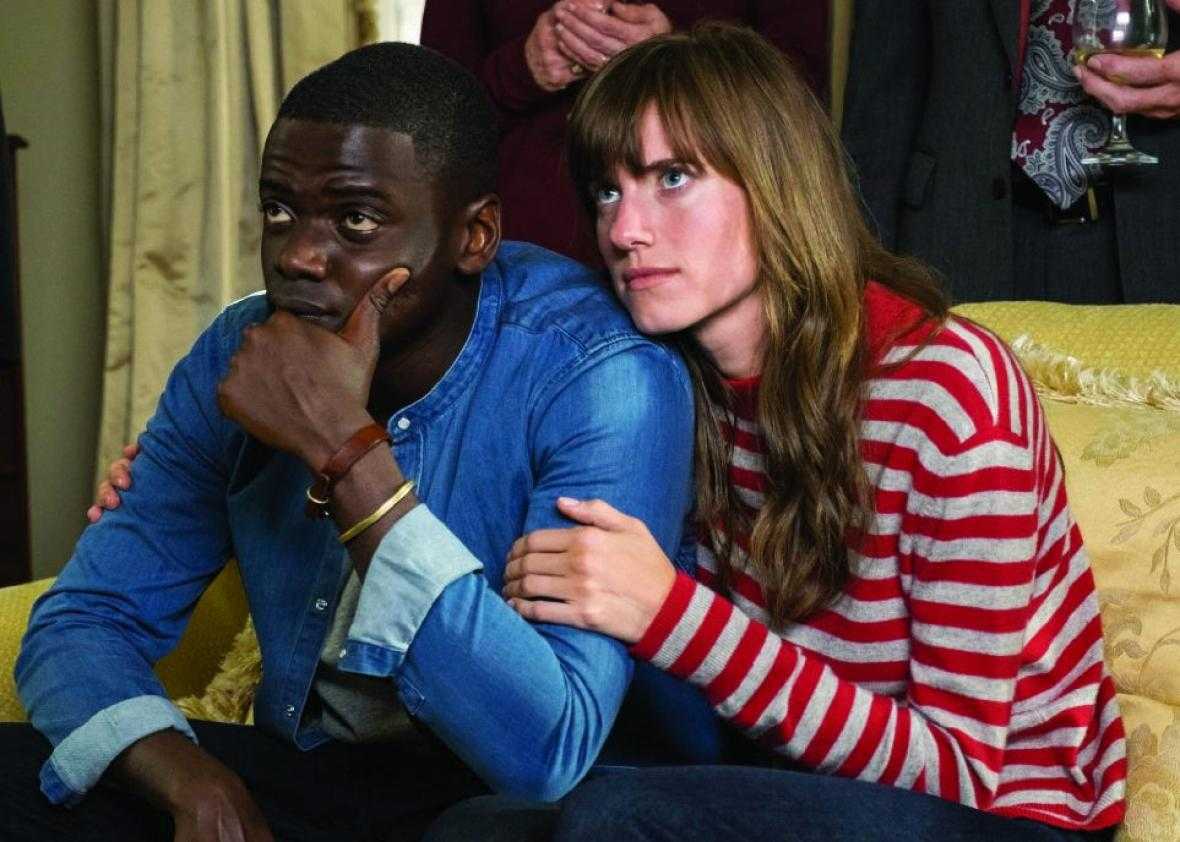 Film: Get Out (Blu-ray & DVD)
Released By: Universal Studios Home Entertainment
Release Date: May 23, 2017
Retail Price: $34.98
The 2017 horror/thriller film Get Out is most likely a movie that everyone has at the very least heard about, written by Jordan Peele. Peele (largely recognized for his comedic presence in Key and Peele or MADtv) took a step out of his comfort zone and created Get Out which strays from his genre norms by tackling a horror film with satire and nods to racial injustices as well as present-day inequalities. The film centers on Chris (played by Daniel Kaluuya) who is dating Rose (Allison Williams) having reached the all important parental introduction aspect of the relationship. The pair embarks on a trip to upstate New York to visit Rose's family when things take a turn and Daniel's concerns about an interracial relationship are intensified with something far worse.
Initially, there is a premise that ties into learned paranoia with Chris feeling isolated being the only black man amongst several white men and women who come off so "supportive" of the pair it smells disingenuous and increasingly grim. That's when the film takes off into a satirical horror film that delves into murder, racism, hypnosis, and a supporting character who finds the funny in just about every situation. The first act of the film feels much more like social commentary on today, quickly shifting to address slavery and perspective on history that many films have had a hard time telling efficiently. While many want to label Get Out as a horror film, it is the social messages and discussions it sparks that indicate it has more to offer as a thought provoking social thriller (with satire) over anything else.
Kaluuya plays the role of Chris as if you can read nearly all of his emotions without any dialogue when it comes to the transition through love, to paranoia and nervousness and ultimately the anger required to overcome the themes of the film. Not to mention, so many moments of the film are like stills for an art exhibit through capturing the characters (Chris) story. The character Rose felt perfect for Allison Williams (not because I think she is similar at all, she's not a monster) but because Allison Williams is someone generally known for comedy as well – but in Get Out she shows off qualities that you wouldn't think her character had or that Williams would be featured in. Prime example, the phone conversation she has with the comedic Rod (Lil Rel Howery) was something that gave Williams her chance to show different acting chops.
The home release edition of Get Out contains an additional ending that was meant to address yet another issue – the increasing incarceration of black men in america. As you may have known, the ending for the film was mostly optimistic given what Chris had gone through but things could have gone differently if he had used the alternate ending, Chris getting arrested for the end result. He would have been able to live with it having stopped their heinous crimes, but luckily Peele found that it needed a more hopeful approach that was a great conclusion to a group of characters with some wicked scary karma headed their way.
With a stand out cast and crew backing the film, themes taking on modern forms of racism (via this dreadful Trump era) there can't be many negatives said other than the incorrect advertisement as a straight up horror flick, because Get Out may shed light on the horrors of racial tension and inequality, I view it as something deeper that many deemed necessary for the society we are living in. All the way to the last scene, there are moments that point out the way people are conditioned to think (the car scene with Chris) that make it a classic in the making for audiences. Get Out deserves recognition for spotlighting liberal racism and so much more, making it a film that is sure to get people talking – exactly what Peele wanted.
Overall Grade: 8/10
Aedan's Final Thoughts:
– The exploration of being an interracial couple today was a humorous spin on something that actually needed to be showcased.
– The cinematography in Get Out was purely magical, horrific and brilliant simultaneously.
– I am curious to see how Peele will follow up the success of the film with – perhaps something in the slasher variety?