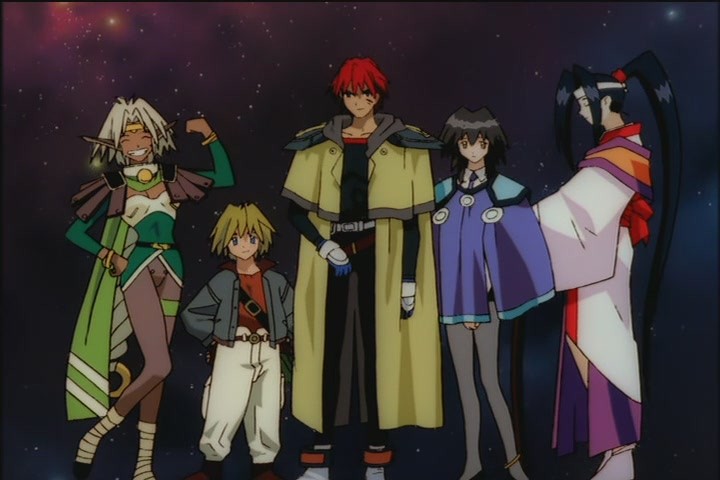 Anime: Outlaw Star (Complete Series On Blu-Ray & DVD)
Released By: Funimation
Release Date: June 13, 2017
Retail Price: $64.98
Once in a blue moon, an anime series comes along that truly speaks to the masses. There are classic series like Cowboy Bebop or Yu Yu Hakusho that earn the title of being an anime juggernaut, becoming a phenomenon for years after its initial release, but one lesser known series from the same time period is just now earning that title with more mainstream opportunities – the one and only Outlaw Star. Outlaw Star originally aired in January of 1998 as a series that was shown in the US Toonami block (which has since received high praise for their selection of wonderful franchises.) The 26 episode series centered on a team of outlaws traveling the galaxy in search of a priceless treasure that is called "The Galactic Leyline" but without any guarantees, the mission proves to be a difficult one at best.
The first character you meet in Outlaw Star is the series lead, Gene Starwind. Gene is a bounty hunter who additionally focuses on random odd-jobs to pay the bills with his young partner Jim Hawking. The two find themselves stuck on a less than stellar planet with no plans or major jobs until one day they meet the captain of a ship (the Outlaw Star) after being hired as her bodyguard. Soon after, Gene and Jim begin this mission of locating the Galactic Leyline as the ships owner hopes to do, sending them off for various adventures and finding new allies with similar goals in mind. That's when we are slowly but surely introduced to a few other key members of the Outlaw Star with the deadly assassin Twilight Suzuka, the animalistic warrior named Aisha Clanclan and the mysterious girl with ties to the ship by the name of Melfina. With the crew assembled (and each equally entertaining) the ambiance of Outlaw Star is created with plenty of positive attributes to give the series a well-rounded team ensemble.
As far as lead characters are concerned, Gene Starwind is exceptional for many reasons. He falls in the in-between age of an adult as someone struggling to figure out what that means (maybe Gene is a millennial because it feels even more prevalent today) and a big part of that is his past. Through flashbacks, we learn things about Gene's childhood that affected who he is today, trying to come off goofy and careless to mask the pain behind serious loss that triggered recurring trauma. Though Gene can be on the stereotypical male side toward select female characters, he has so much more depth to offer viewers and it is felt from how he treats people (men, women, children, straight, gay, etc.) Gene is almost an idealistic person because of his tough personality and ability to get things done but also keep a softer side visible so you feel fulfilled by following this particular protagonists path – also playing the character that actually draws the crew together as a cohesive unit. From the beginning of being introduced to the lost-in-life Gene Starwind, to the end where Gene has shown tremendous growth, the journey is a unique and brilliant use of a lead character.
The core ensemble of Outlaw Star makes the series all the more engaging, presenting viewers with all likable characters in a variety of ways. Jim's youth yet inclination toward responsibility make him an unexpected parental figure, however the childlike Melfina plays a major importance to the success of the Outlaw Star. Conversely, we have the beast girl Aisha who enjoys food, naps, battle and is a sense of comedic importance, but when necessary she is highly seen as a heavy hitter with more heart and brute strength than most of her crewmates. Last (but certainly not least) is Twilight Suzuka, who like Aisha begins as a rival to Gene. Eventually, Gene's resilience and kindness intrigues her enough to join them despite being labeled as a stone cold killer who works alone. Together, the crew makes an unstoppable force and one of animes strongest crews that have ever been created.
For being an anime in the late 90's, there is surely a stigma about the less vibrant choices, but the series actually holds up pretty strong to today's anime series. The space travel and ship fights are fast paced with dazzling colors and each character feels as if the shine individually by thankfully avoiding some of the generic designs for characters today. On top of that, this marvelous Funimation Blu-ray re-release (that I wasn't sure if we would ever be blessed with) the series is better than ever and remastered to its best ability. When you take all of the perks into consideration, Outlaw Star is a rare anime gem that has stood the test of time in storytelling, characters, animation and overall entertainment. Don't miss a chance to check out the series now from Funimation and if you have already witnessed its perfection, this new release is a collectors set that every anime fan needs to obtain.
Overall Score: 9.5/10
Aedan's Final Thoughts:
– Plans to make a follow up never came to fruition but hopefully this can motivate the creator to continue the story again one day (soon.)
– This series is easily in my top 5 anime series of all time.
– The Outlaw Star crew has me prepping to explore space in search of treasure.